Artspace Loughborough Spreads its Wings
Charnwoods's thriving artists' group ArtSpace Loughborough are to exhibit at the Atkins Gallery in Hinckley this spring. 16 artists including painters, printmakers, sculptors, photographers, ceramicists, and textile artists will be presenting an exhibition titled 'Renewal' from Thursday 4th March to Saturday 26th 2016.
ArtSpace is now into its 19th year, having been formed in 1997 to encourage the development of artists' careers through networking, skill sharing and making high quality contemporary artwork available to the community. The group has grown over the years and now has 25 members. Artists exhibit high quality contemporary work individually and in small groups all over the country, but come together several times a year to exhibit as a large group. Working to the brief 'Renewal', the artists have produced a rich and varied exhibition which demonstrates once again how ArtSpace encourages artists to develop their own way of looking and responding.
One reoccurring theme is recycling and upcycling as abandoned detritus is given a new lease of life. Alison Folland worked with discarded photocopies, using origami techniques and thread to create a mixed media textile piece. Pam Everard exhibits both two and three-dimension works using rescued remnants from a bonfire and skip.
The constant ebb and flow of renewal that occurs along with the passage of time also proved to be a popular starting point, with Beryl Miles producing a painting representing the breaking of maternal ties. Mary Byrne explores the history of Skegness pier in photo collages and paintings imagining holidaymakers past and present. Gillian Hugman-Perkins explores the relationship between an ancient site and our constant attempts to understand it, the strategies we use and the layers of meaning that result.

Also acknowledging the inner dialogue related to changing family relationships, Erica Middleton exhibits an installation including miniature 'standing stones' which reflect upon the concept of renewed dawns and family relationships.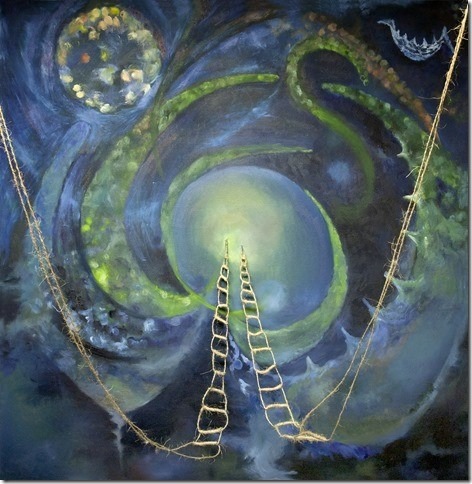 Exploring the themes of decay, change and renewal, Nita Rao exhibits a mixed media installation. Using metal and willow she has created a large scale 'ribcage' that can be walked through. Her painting represents
unconscious energy, and from it emerges a rope ladder leading to a golden bird of change (constructed from
willow).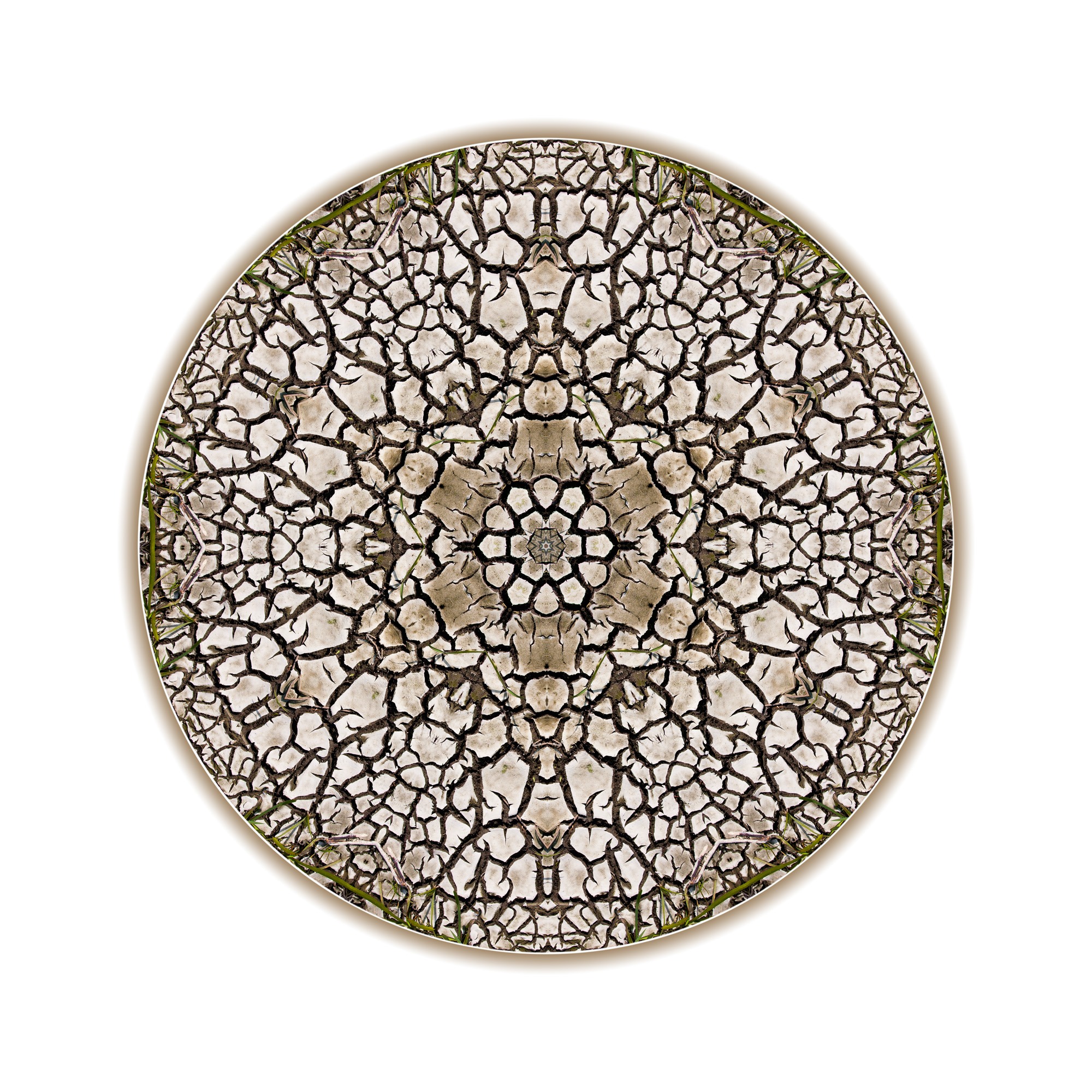 The 'One Planet' series by photographer Tony Thory juxtapose beautiful patterns and intriguing imagery with
fundamental environmental, ecological and political concerns. The images at first appear beautiful and
intriguing, it is not easy to see what they are, but underlying that aesthetic the images are symbolic of global
catastrophe. Also concerned with ecology and the need for change, new member Helen Sutherland exhibits
with the group for the first time. Her inks, watercolour and gouache pieces voice her ecological concerns and
the need for change.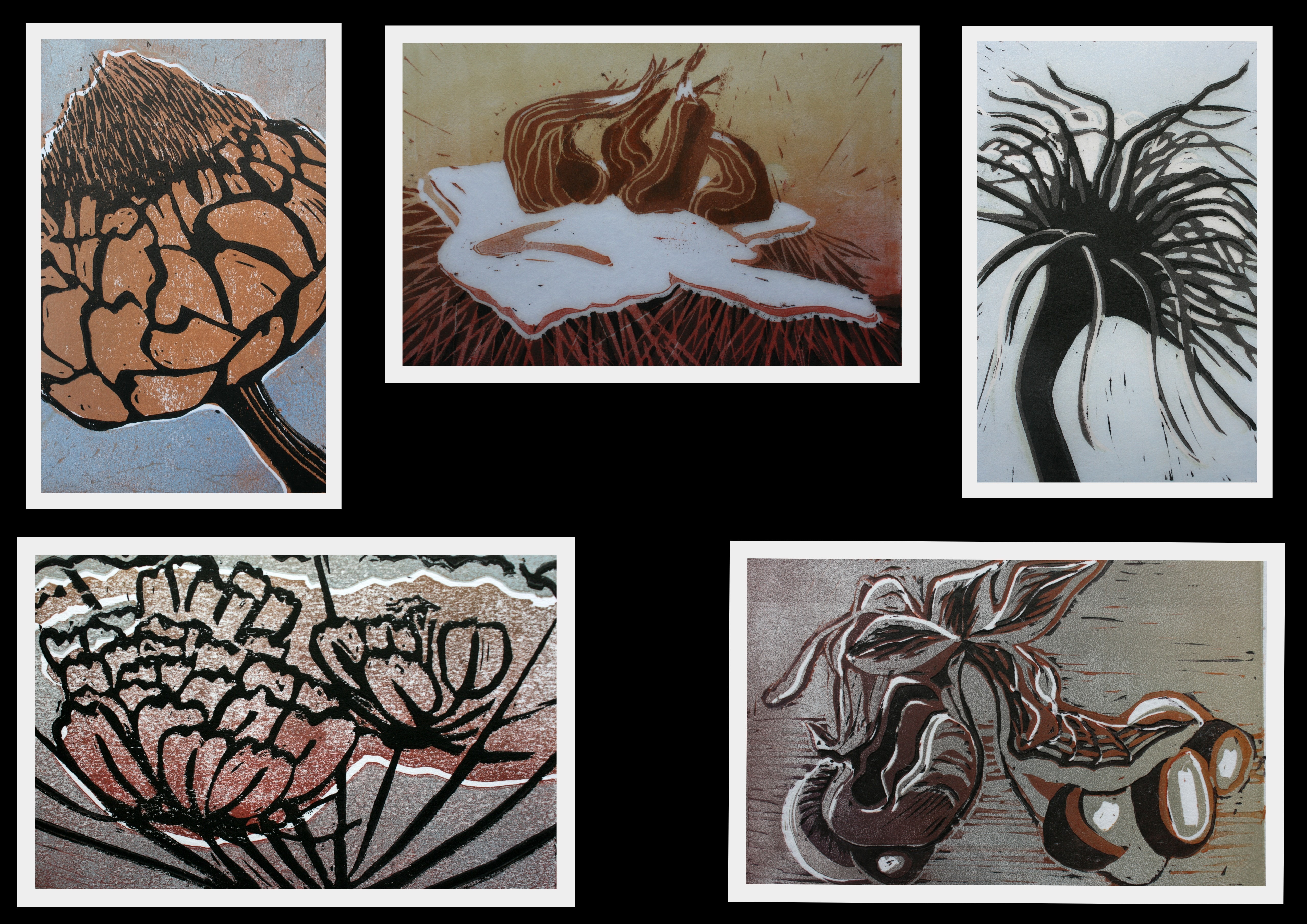 Jo Sheppard has produced a series of lino prints and paintings depicting plants at the end of their life cycle,
but with the capacity to create life further life.
The work by Sally Reayer considers the renewal of health and wellbeing after illness or trauma. 'Healing
Hands' recalls the work of Mother Teresa of Calcutta. 'Safe Haven', a set of ceramic pieces, expresses these
things through a sleeping figure in imaginary settings.
Judith Eason's found her inspiration in the use of old drawing instruments. By incorporating these in into an
image they remain a link to the past but are now in the present, stimulating memories on how we used to
work.
Colourist Anna Michalska explores the renewal associated with the colour green, with both its psychological
and physiological effects.
All in all, 'Renewal' provides an excellent insight into the quality and breadth of contemporary art being
produced by this exciting group. There is an effective combination of two and three dimensional work, all of
which rejoice in their individuality whilst being linked by a common theme. This show is well worth a visit, and
with the exhibition being free, it's one you can't afford to miss!
'Renewal' exhibition. Atkins Gallery, Hinckley. Thursday 4th March to 26th March. Opening times Mon to Sat-
10.00am to 4.00pm. If you would like further information on ArtSpace Loughborough, please email
mail@artspace-lboro.co.uk or see the website www.artspace-lboro.co.uk.