---
Patsy Whiting's drawing in National Open Exhibition AND at Science Museum, London.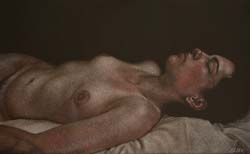 "Ophelia", a nude portrait drawing by Artspace artist Patsy Whiting was chosen for the National Open Art Competition Exhibition in Chichester earlier this year and for further exhibition in the Watercolours + Works on Paper Fair at the Science Museum in London.

---
Artspace artists Jo Sheppard and Patricia Whiting win prizes in 2010 Open exhibitions.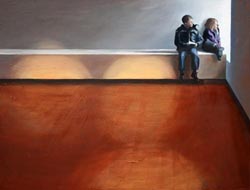 Jo Sheppard won the Wilson Browne prize at the Leicester City 22nd Open at the New Walk Gallery.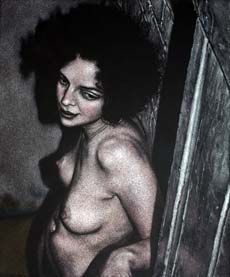 Patricia Whiting was awarded the Swans Fine Art Prize at the Open 8 Exhibition at Catmose College in Oakham.

---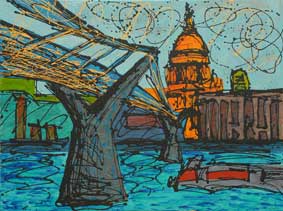 Susan West has reached the shortlist of the top 100 art works in the LONDON LIVES competition organised by the Guardian newspaper and the Bankside Gallery in London. Her work, Between St Paul's, will be exhibited in the Bankside Gallery, next door to the Tate Modern, from 9th until 19th September 2010

---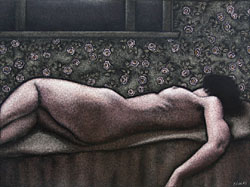 Patricia Whiting, a relatively new member of Artspace, has had her crayon drawing, "Moonlight" accepted by the Society of Women Artists (SWA) for their 148th annual Open exhibition at the Mall Galleries in London (23 April – 2 May 2009). In this exhibition the SWA will "showcase a stunning collection of contemporary artwork by leading professional women artists alongside talented non-members. About 500 works of art in all media, including sculpture, will be shown."

---
---
Publishing
success for Artspace artist Erica Middleton and GP husband John.
DOCTORS AND PAINTINGS –
insights and replenishment for health professionals.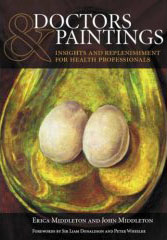 'John and Erica Middleton guide
the reader gently along the interface between art and medicine, in
their own inimitable style. Whether
in search of an
introduction
to the world of art, or wishing to consider the role that the formal
study of art might play in professional development, reading this
book is likely to prove rewarding…..
---
Berryman
Prize goes to Artspace member Susan West !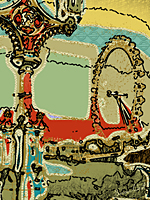 Susan has won the Berryman Prize at the
Nottingham Open with two of her digitally manipulated prints.
The prize includes a commission
worth £1000 plus an exhibition of her work next year at the
Berryman premises in Friar Lane, Nottingham, and £150 of vouchers
to spend at John E Wright.
---
A brief history of Artspace funding awards
and Mentors.
---
---
---